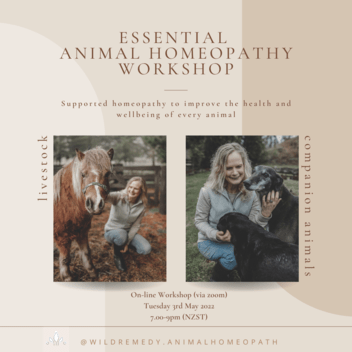 Essential Animal Homeopathy Workshop
$45.00
Are you interested in learning essential animal homeopathy support skills that you can easily and safely apply at home?
Then this on-line workshop is for you!
On-line Workshop Details👇
👉Tuesday 3rd May from 7-9pm
👉Workshop Cost $45.00
👉Limited to 10 attendees
Insights you will gain from the workshop👇
🐾How to support and take care of your companion animals naturally and effectively at home.
🐾Provide effective homeopathic support in common acute animal conditions.
The aim of this workshop is for you to👇
🐾Feel confident in supporting your companion animal at home with homeopathy
🐾Learn when to give remedies and when to seek veterinarian advice
🐾Gain an understanding of the more popular remedies that are useful in acute animal conditions such as wounds, sprains, strains, bruising, bites & stings, gastro complaints
🐾Learn how to correctly select and give the appropriate homeopathic remedy
You will also receive👇
🐾A recorded copy of the workshop along with key notes (sent via email) for your future reference.
🐾A special discount (10%) when you pre-order your homeopathic remedy kit after the workshop.
SKU: 10000-45